It's Going to be a Long Ride
by Weldon Charles Graham
---
Feb. 25,1990

Introduction


Some time ago while visiting in Seattle, we were going through the routine of "...the good old days" and "...do you remember. " It was surprising how little Em and I "knew" about our genealogy. As a comment, John said he thought it would be a great idea to write down recollections of our child hood and growing up periods recounting as much detail as possible of family, relatives, and events of our lives. This way at some point in the future, when our progeny is sitting around some night recalling the good old days with their progeny, at least facts about us would be available. This sounded like a reasonable thought to me, so here goes a try at it. I'll try to put down on paper what I can recall of parents and relatives, and places we lived, and work we have done. Guess I shouldn't make such specific use of "we" as your mother's story is different, other than how it relates to involvement with me.

Don't really know where to start so perhaps the best would be a beginning of what I can recall or think I recall. Some of this might be recollections of pictures or stories I heard. I have broken it down to six somewhat separate phases or chapters:
Preface
Pre 5th grade when we lived in Highwood
5th grade to marriage (very close after 5th grade!)
Chicago period
San Diego period
Miscellaneous or not in any of the above categories
---
Preface
As some background to the first section of recollections, my pre 5th grade years, I will talk about what I think were the circumstances leading to my birth. This section will also give some background information about what I remember of my parents and grandparents.

My father's side is the shortest because I do not have much information about him. He was named Weldon Edward Graham and was born in 1900. He had one brother, Harris, who lived in Seattle for reasons unknown to me, although it may have to do with the divorvce of my grandparents. Harris and my father were on friendly terms and did correspond relatively frequently, mostly through my mother's writing, which she enjoyed doing. I do remember Harris coming to Chicago in 1936, on some sort of business trip and it was a time of happy anticipation for him to be able to spend a couple days. I remember him as more stocky, but not heavy, than my father and of more resemblance to Harold. I also remember he brought me a gift of 2 books. Alfred Payson Terhunes "Laddy" and "It's A Pass," a Tom Brown type of high school story where the book ends with the winning touchdown pass on the last page. When I moved out to get married these books were still at the Ashland Ave. house. My only other recollection of his visit was a next day discussion of how they "really painted Broadway RED last night".
Of my grandmother, on my fathers side, I also know extremely little, not even her name. I have the impression she had been dead for many years by the time I could even recognize the concept of relatives. She did live on the west side of Ashland Ave. in a two flat located 3-4 houses south of Lawrence. Again for how long and/or if this was where my father also lived I am not sure. The only thing I know of my father's youth is that he played baseball at what is now Chase Park for the "Ravenswood something," which may have been some kind of a semi-pro team. My father was also a good swimmer and he used to tell how Johnny Wiesmueller (who went on to be an Olympic gold medal winner and probably the most famous movie Tarzan") used to swim with the neighborhood group. My father still felt when they were both very young swimmers that he, my father, was the better swimmer. However, somebody at the Illinois or Chicago Athletic club became interested in Johnny and took him under his wing for formal training. My father also had a motorcycle and might have even done some amateur racing. He served in World War I in the Navy as a radioman. He trained in Boston and developed a lifetime "pen pal" relationship (in later years nurtured by my mother's correspondence) with a girl who I believe was, or became, secretary to Curly Fitzsimmons, the Boston mayor who was famous or infamous according to your political leanings.
What I know of my mothers early life is also very little. Her name was Mary Hedelin and she was born in 1899. Her parents were an immigrant Swede and a first generation Irish girl. I know my great-grandfather's name was Dennis Foley. He had at least 2 children, my grandmother Katherine (Kitty) and aunt Mary. Mary was an old maid who in her later years lived with the Hedelin's. She was a retired telephone company supervisor and probably worked in the central switchboard section. Katherine also worked for the telephone company before she married. When we Grahams moved back to Chicago to the Hedelin's house, my aunt Mary was already living there and she was a favorite. As I remember she was on the heavy side with brown curly hair and the traditional Irish smile and easy laugh. Why she never married I do not know.
My grandmother was also at that time of her life on the heavy side although pictures of her in younger days showed a thin very nice looking young lady. It was obvious even to me as a 10-11 year old that my mother and grandmother were as thick as thieves and my grandfather was odd man out. There was a perpetual conspiracy between them to provide my grandfather with only enough information for him to finish out the current day. On more than one occasion there were large and loud discussions on why did they forge his signature on this or that document. My grandmother liked the movies and she and I frequently went together. As an aside my grandfather probably liked movies even more, and he frequently would take me, but I cannot recall them ever going together. That's not to say they didn't but I never went with them as a couple.
My grandfather, Charles Hedelin, was something else again. As mentioned, he was born in Sweden of apparently middle class coffee importers. I do recall him showing me pictures of his family life and home in Goteborg and that they had servants and all. He had a brother who was a concert pianist, a sister and possibly more siblings. I have a letter from his sister which a Swedish friend translated. It related the serious sickness of a parent and what was being done. The translator said he didn't get the impression it was acrimonious. My grandfather did go back to Sweden a couple times to visit parents so I assume he maintained good relations with them. On one trip he visited Lourdes and brought back a large wood ball rosary which hangs today on your mothers dresser.
I do know a little of his background possibly from my grandmother's (and mother's) stories. I remember that he would always take the time to answer any questions and not infrequently, mostly to illustrate some point he was making, talk about Sweden. He went to a technical gymnasium and I believe was essentially an electrical engineer although he also was a licensed American mechanical and structural engineer. My impression is that he was a brilliant type student but on the perfectionist side. He could speak conversational Latin, and once while sick in bed had the visiting priest take the altarboys part while he said the priests part from memory in Latin. It was a pet peeve that most priests could not speak Latin without an open book. He also spoke Greek, German, French, Norwegian, Danish, and could read Italian, Spanish and some other languages. His library had books in many languages and he could flit from one to another with no problem.
His main problem was he was a perfectionist and expected everyone else to be the same, including his daughter, wife, son-in law, grandchildren, parish priest, supervisors where he worked, and whoever he came in contact with. I remember going to the movies with him when an automobile was illegally driving in the streetcar lane and he gave the driver hell for his misconduct. I'm sure over his lifetime that he was a champion collector of whatever at that time was the equivalent of the finger. He worked for the telephone company, South Works of Illinois Steel (which eventually became U.S. Steel,) QRS (which made movie equipment and toy piano player-type music instruments,) and was chief mining engineer of a silver mining company in which he invested and lost his shirt. My grandmother told the story of how one night in a Cripple Creek hotel room some salesmen had a suitcase of money on the table which would be exchanged for a purchase order for their equipment and he threw them out for trying to bribe him rather than providing a better product to sell. Meanwhile his partners were milking the company into bankruptcy back in the big city corporate world. Perhaps one of his most prideful situations is when he worked for the telephone company. He was given written permission to check his own engineering drawings.
While at the South Works steel mill plant I know of two events. The first is a story my grandmother told. He was offered the job of Chief Engineer if he would join the Mason's, like all SW executives. His answer was to go out and join the Knights of Columbus. The second story he told and it had to do with a new traveling crane they were building. The crane would go out on a dock to unload vessels. It wasn't his assignment but that never stopped him for whatever his from making comments. In reviewing the job, he felt it would not work because the end of the pier was not stable enough. He went to his supervisor and told him there were some design errors. His supervisor promptly told him to keep his nose in his own assignments and in any event he, the supervisor, had checked the design. Came the day to install the crane and everything was OK at dockside. However the first time out to the end of the dock the crane proceeded to tumble into the river. He told me he was going in to say "I told you so" to the boss but thought better of it. Instead he simply took a picture of the mostly sunken crane, went in and laid it on the boss's desk without saying a word.
I believe he was at South Works in the latter 20s when some European cousins (maybe the Ballingers who owned or had influence in the Hamburg-American steamship line) asked him to be the principle overseeing engineer on a silver mine in Colorado. They were investing in the mine and also let him become an investor. He asked for a leave of absence from SW and it was granted. When the silver mine thing failed he went back to SW but, alas, his job was no longer available. My guess is that he was just too hard to work with even if he was an excellent technical employee. I think he then played a little with the QRS thing in some sort of developmental way, possibly through the Ballingers. I know they were involved in movie projectors and made piano player rolls; QRS is still on player rolls I think. He brought home some fun items at that time. A particular favorite was a 7-8 inch saxophone with a little song roll that you blew into and turned a crank to advance the roll. When the depression came and he never did obtain a regular full time job.
An event happened in the mid-1930s that caused a lot of hoop-de-do in the house. There was a week of much activity getting Charlie's suit to the cleaners, getting him a haircut, getting the derby hat blocked, double shining his shoes and sundry other things. This was all for a soon to happen meeting that would take place downtown where he was going for some big event. At this time there also was much activity and buzz over a front page picture in a paper about the arrival of some German Baroness in Chicago. I don't remember whether Charlie knew about the arrival of the Baroness from the papers and got in touch with her or that he received an invitation from her. I do remember the stories and telling the neighbors of the happening, the preparations, and on his return from the event the gathering of the family to listen to the recounting of the meeting with the Baroness. It was a main topic for discussion and questions for some time and Charlie was very willing to talk about the event in detail.
My grandmother also told the story of how he was in the process of inventing some kind of device that would have an automotive application. Just as he was finishing up patent drawings, a roomer they had at the time left and the drawings were not to be found. Why he lost it and didn't make a hurry up patent application I haven't the faintest idea. In any event, with not being able to find steady employment and the depression gathering momentum it quickly became apparent that there was a strong possibility of them losing the house on Ashland Ave. I do not think our house in Highwood was in jeopardy as my father had his job on the railroad and my mother had a little coffee shoptea room in Highwood that I assume was a small money earner. Eventually they decided to save the Ashland Ave. house and my folks moved back to Chicago to rent the downstairs flat. This suited my grandmother and aunt because my mother would be back in the same house.
A few additional words on my mother who got short notice above. She was an only child, and spoiled rotten by both parents. When she graduated from Our Lady of Lourdes High School, my grandfather wanted her go to school to become a concert pianist like his brother. Apparently she had some talent that required specialized training. She rebelled at that, with I gather her mother's tacit approval. From that point on her relationship with her father was all downhill. The Hedelin's bought the house on Ashland Ave. around 1910. At that time it was a two story single family residence in the Ravenswood district which was definitely middle class. Ashland Ave. was just a normal street so there was a large front yard. Later, when they widened Ashland to make it a boulevard, the front yards lost depth. At the time Ashland was being widened, the parish church of Our Lady of Lourdes, was on the east side of the street. The widening made a major renovation necessary, and so the whole church was moved across the street and turned 90 degrees in orientation. It was one of the wonders of the time to move the huge church across the street, turn it 90 degrees, cut it in half, and add the present dome section. I think Ashland was closed for almost a year to accomplish the task. At about that same time, the school was changed from n all girls high school to a grammar school.
When my mother got married my grandfather decided to convert the house into a two flat to provide income. With Ashland being widened, the residential character of the street was changing to include brick buildings with from 2 to 8 or more flats. My grandfather did most of the work himself and there were some things that hadn't been finished when we inherited the house in 1950 (or when we left it in 1956!) One of the things that was done was to convert from gas light to electric light. Grandfather hired my father (who had some electrical training from his radioman days in the Navy and a friend of his with similar experience) to do the house wiring. My father often spoke of how they never wired one receptacle since Charlie was right there doing all the work himself, even though he was paying them.
Well that should be enough of background into the cast of characters and places we will be talking about in phase 1, my recollections up until we moved to Chicago where I entered Lourdes in the 5th grade. I also need to mention that our family grew in 1926 with the birth of Harold, and in 1930 when Don was born. Both of them were also born when we were living in Highwood.
CHAPTER 1
My first recollection is being taken out of a crib by my father. I also remember that I was too big for this crib which was at the Ashland Ave. house of my grandparents. My father was wearing a stripped shirt and there was some sort of party or event going on as I was passed around to a number of different people. I was probably 3-4 years old and my folks had come down to Chicago for the day. The room we were in was what I came to know as the little room in the front of the second story of the Ashland house. It's still clear in my mind for whatever goofy reason.
My "more expected" recollections are of our house in Highwood, across the street from St. James Church. The house had a big wide veranda and several wide stairs to the ground level. Two vivid memories are of the interminably long daily waits for the postman who was to bring me an Indian suit that was coming from Chicago. It seemed that at least 5 years passed during the week or so it took for the mail to arrive. The other is that my mother had a baby grand piano and I can remember her trying to give me piano lessons, hopeless task that soon was given up.
I remember getting a beating for chasing an ice wagon down the street as I tried to jump on the back to get some ice. On what must have been a Fourth of July, my Father was shooting off firecrackers in the small front yard and fortunately was not seriously injured in an accident that occurred when a firecracker went off just as he was placing a can over it to make it go up like a rocket. The can hit him in the forehead and caused an incredible amount of blood leaving a scar on his forehead for the rest of his life. That is about all I can remember of that house, except in the living room the Baby Grand Piano had some sort of fancy "lace scarf"cover that flowed over and went to the floor. This made a great fort to play in on rainy days, and probably other days also.
The house across the street from the church was owned by an Italian family (Highwood had a large Italian population) that my parents liked and socialized with. One summer when I was 9 or 10, they asked if I could go down to Kincaid, which was near Springfield, for a summer visit. Railroad employees' families could get free transportation on railroads that had reciprocal agreements so as far as my folks were concerned it was a free summer vacation for me. Off I went. I remember three things. First, there was a car in the town with a radio in it. People were coming from all over the area to see and hear this. Second, several houses were being built. A standard houses in Kincaid has an excavation for a 500 gallon tank under the basement floor and then the building was normal. This was a totally Italian town and prohibition or not, the Italian was entitled to a place for a little juice of the grape. Third, I smoked. Problem was I got caught by the old folks. Not only did they believe it was OK to have large wine tanks under their houses, but they also believed that kids lived in a dictatorship, not a democracy. Their response was "Here's your suitcase—start packing while Papa goes to the depot to get you a reservation on the next train." He then made a telephone call to Highwood telling my parents the time of the train on which I would be arriving.
There was some humor of sorts however. They put a couple bottles of wine in my suitcase to bring back. My father met me at the train station in Chicago. As he was taking the suitcase off the train platform, it fell and landed on the concrete. Yep, the wine bottles broke. Nothing he could do but walk nonchalantly and sort of look around with a "I wonder where that alcohol smell is coming from" look on his face. I think this must have been on a Saturday as when we got home very little was said. In fact, it was so calm because he had to go somewhere and I did not even get instructions to go to my room or anything.
Being convinced the crisis was over, I went up to the hardware store and bought an airgun. I used some of the money I still had, assuming that what I had not spent in Kincaid was mine. My shopping finished, I felt I might as well make a real day of it and went to the matinee. I was having a great time helping the white hats shoot the black hats with my new gun. Out of the blue, my arm was grabbed and I was flying up the aisle with my mother in front of me. We lived about a block and a half or two blocks from the movie house and I think my feet were on the ground maybe half that distance. My father was home again. I know now that what my father had gone was to get my mother and when I wasn't home that transgression was added to the "being sent back in disgrace" one.They didn't catch up to me too quickly because they had spent a lot of time working out the smallest details of the fate that was mine for the next couple weeks.
The house I remember best was at 540 North Avenue. Like all lake towns between Chicago and Milwaukee, Highwood was divided north to south by the parallel Northwestern and Chicago and North Shore railroad tracks. The Northwestern was a normal steam railroad that probably went as far, or further, than Minneapolis/St.Paul. It only stopped at a few towns between Chicago and Milwaukee. The North Shore RR was an electric railroad that was essentially a commuter line between Chicago and Milwaukee. The headquarters of the North Shore was in Highwood, as were its roundhouse and car barns. All trains originated and ended in Highwood. A round trip was Highwood-Chicago-Milwaukee-Highwood. They also had some freight business.
My father was a conductor on the North Shore. He was an "extra" for about 20 years before he progressed to being a regular conductor. Seniority determined everything. Whenever a change was made in any train schedule, all the individual train assignments were "posted" and were signed up for in rank of seniority. After the regulars made their selections, the Dispatcher assigned the remainder to the "extras.". While seniority for "extras" was not official, probably most of the older extras had enough good will with the dispatcher to "suggest" what assignments they would prefer. The train make-up yard was within walking distance of our house, so it was no problem if you were assigned a first-out or last-in schedule. In these circumstances, the conductors and motormen who lived in other towns along the line had to have automobile transportation to or from the Highwood station.
At some slack times of the day it was no problem to "deadhead" in Highwood. In the train yard there was a large room where trainmen would gather while awaiting their train departure time. Sometimes they would have several hours between assignment s. I think there were also some number of "extras" slotted for emergencies in case the assigned trainmen could not work that day. There were a significant number of these standbys on hand and there was nothing for them to do except read, play cards, or listen to the ball game on the radio. I don't know if this was regular pay work or not (maybe only half pay) if they were not used on a particular day.
There was enough activity in the trainroom to have a barber and cleaner shop and also a small "greasy spoon" eatery. I always liked to go there because they had a soda machine that I thought neat. It was about the size of horizontal freezer except it didn't have a top. There were 5 or 6 tubes made of heavy close spaced wire mesh. They were placed end to end and were bent in a U shape to go to the bottom of the ice chest. The machine was filled with ice and you took a bottle of soda from a rack next to the machine, put it in the right tube for your brand (Coke, Kayo, Orange, etc.) and pushed it all the way down. Then you went to the opposite end and pulled out an ice cold bottle that had been forced out through the ice bath when you put yours in—coldest pop you ever had.
The train yard was also the wrecked train graveyard. Some were really mashed. I remember my father coming home one day all shook up as he recounted how one of the yardman had been caught between the couplers of a train. He did not die right away. There was enough time to get a priest and a doctor, but it was obvious to everyone, including the hapless person,that as soon as the trains were uncoupled, he would be gone. Fortunately he died before that choice had to be made.
My father was a member, probably a founding member, of the Evans Watkins American Legion post which was almost entirely comprised of North Shore RR employees. It was unique among Legion posts in that it had no permanent meeting place. Meetings were held in the members homes and it was sort of a big event to have it at your house. The post paid for the food (but the wife prepared it) and the liquid refreshments. The prohibition rules were rescinded for meeting nights. I can remember meetings, while we kids were supposedly in bed, when the noise was so great that it was hard to sleep. So I would sneak down as far as I dared on the stairway and try to take in all the activity. Sometimes my Mother would spot me and have me come into the kitchen to help her clean up. Eventually she would wind up at the piano and then the noise level would really go up. She also liked to shoot c craps so sometime during the evening there would be a group on their knees in the kitchen rolling the bones.
Besides the baseball program sponsored by the Legion, there was a Boy's State Week in Springfield each year. I was selected to go one year when I was around ten. I really do not remember much about the camp except there were a lot of boys and I think they had retired Marine drill sergeants running it. It was a go--go--go affair. I do remember though that I had to give a report to the membership at the next meet ing after the camp. Think my legs were rubbery for days before the meeting.
Some other recollections of early Highwood days are from the house on North Avenue. Our house had a big rock as a decoration down by the side walk. I can remember one day when my brother Harold was standing on the rock stark naked (he probably was under 4 years old) and my mother rushing out to yank him back in the house. For awhile I tried to get a Liberty magazine route going. Liberty was a very popular general circulation weekly magazine that had home deliveries like newspapers, except the kids had to get their own customers. They did give the kids a magazine carry bag to make deliveries, however. These were canvas bags with a wide suspender belt so they could be carried over your shoulder, or if you were lucky enough to have a 2 wheel bike, you could wear it like a knapsack while delivering. I walked. I do not recall details but do not believe this venture lasted very long as customers were hard to get and they had to be within walking distance.
As mentioned in the Kincaid incident, there was a movie house not too far from our house. It was a small movie and I do remember the transition from silent to talkies. As we were a hick town it probably took awhile to be converted. I don't remember any specific movies other than the serials which were usually Tom Mix or other cowboy types. We kids also worried a lot during the week about the impossibility of the hero escaping deadly harm from the ill fate that befell him at the conclusion of the last episode. However, the next Saturday brought some clever feats and he would escape to continue fighting the evil guys.
I remember being in the doctor's office and being poked in the side. Next I was on a table with bright lights above and someone putting something over my face and telling me to count backwards from 10. Along about 5 or 6 I was flying down the center of a big swirling tube like tunnel that never ended and was filled with a strange smell that I can to this day recognize as the odor of chloroform. Then I was at home laying on the couch in the living room and everybody was being especially good to me. It's peculiar how disjointed bits of the event are clear, but there is no tie between them. Oh, the problem was appendicitis which I guess at that time was a matter of serious concern.
The two railroads ran north and south through town. A little south of the main Highwood train station, was the town center. At Lee East's house, both tracks were on a slightly elevated roadbed where they went over a shallow valley. It was probably less than 10 feet high and as the tracks were only 15 to 20 feet apart, there was a fairly steep hill. Most of the way it was simply a big "U" between the tracks. However there was a place where there was a big, maybe 4 foot diameter, culvert for rain water to drain out. In the winter time with snow on the ground this was a great place to go sledding. You could get on the top at the Northwestern side, go down this hill and whiz through the culvert for a great ride. One time I didn't make the hole in the culvert and remember seeing myself going toward the concrete rather than the hole. I guess I was out a long time as Lee East went to get adult help. I still have a slight bump on my right side forehead.
A sad incident at this time involved Lee who was my age, and while not "daily" friends, we did play and hang out together. It might have been fortunate we were not really close as one day he and other friends were playing with a rifle in his bedroom and one of the friends was accidentally shot to death.
Another Highwood event that is clear in my mind was a school event. The school was adjacent to the back end of the church so essentially the length of the church plus part of the width of the school was a play ground area. The school was raised off the ground so there was a half basement underneath, with short steps up to the school entrance. The washrooms were in the basement and the urinals protruded out from the wall and joined at the outer edge to form a half diamond.
One otherwise calm day, for some reason or another, I remember stepping a bit to the right and peeing up and down the knickers of the hapless little boy in the adjacent urinal. He, of course, told his troubles to Sister. After a fair piece of time discussing the mater with me, and with great emphasis on how she really would pray I didn't die before I had a chance to go to confession, she decided the problem was too big for her and asked for the assistance of the Pastor. It must have been a major problem as I was not allowed to go home by myself, but had to be released into the custody of a parent for the remainder of the week to get shaped up.
Another major event was an unfortunate incident that I was involved with at home. One must be aware that my mother's father was a very difficult person to deal with if you held an opinion other than the "correct Swedish way." Well, my Mother had borrowed a pair of Chinese vases from him to serve as decorations on the piano—very chic with the lacy scarf that flowed to the floor and all. It seems one rainy day when we had to stay indoors, I was playing football inside. The living and dining room areas had a large opening between which made a reasonable playing field. After tiring of being Red Grange and running touchdowns with the other team on my back, I decided to change characters. Unfortunately, I chose to be a passer and got tackled just as I let a pass go. This threw the ball off course and knocked one of the vases off the piano.
That was an afternoon and evening of screaming and threats to remember. The main problem was how to break the news to Charlie Hedelin, my grandfather. In consultation with my grandmother, it was agreed that this was one of the myriad events that happened that did not effect the health or safety of Charlie so there was no real need for him to know at this point in time. Maybe he would be told on his deathbed or at some such future time. That was section A of The Plan. Section B was to delay any visits from Chicago as long as possible. Eventually Charlie did come to Highwood for some event and as he walked into the living room it took maybe 3-4 seconds to ask a casual "Where is the other vase?" It was another long night for me.
Highwood was essentially an Italian town, why I do not know. Most of the stores were Italian-owned and thick accents and Italian were commonly heard in the stores and on the street. It was really a one horse town. It bordered Highland Park which was a much larger town. Other than the North Shore railroad yards, the only other feature I remember is that it was adjacent to the Fort Sheridan military base. The north fence of the post was one block to the south of our house on North Avenue.
A little distance after the east side of our house, North Avenue curved south and became Green Bay Road which continued on through the suburbs and finally ended in Evanston where it wiggle-waggles to Clark Street. A short way further south, Clark teed off to Ashland Avenue and a mile or so after the tee was my grandparents house (the house we inherited when my grandfather died.) This was the scenic route to Chicago and was relatively slow-going as there were a lot of twists and turns. A much faster road to Chicago ran parallel to the railroad tracks and was more frequently used, especially in the winter time. In summer though, my folks often drove the scenic route as it was a pleasant drive that followed the lake front and merged with the Chicago streets at the Edgewater Beach Hotel, a place much prettier than my grandparents house. It was a pretty famous hotel that sat right on the beach and had big name orchestras, deluxe accommodations, and lots of charity events I read about in the newspapers.
Fort Sheridan was an "open" post and my folks often went there for movies, shopping, and eating. About 10 miles further north was the Great Lakes Naval Training Station. It was one of the Navy's recruit training stations and had a very large Veterans' Hospital on the grounds. I remember going to the facilities with my father fairly often for some event or another. (Getting way ahead of the story, it was at this Veterans' Hospital that my brother Harold spent many months recovering from a severe injury he received in Korea and for which he got a Purple Heart and Silver Star.) A little further north at the Wisconsin border was the headquarters of the Flat Earth society. They had a nice, large building off the side of the road which was a place to point out to visitors. I think they were active until after W.W.II. Toward Chicago, I believe on the Green Bay Road, was the Ravina Concert facility. It was in a heavily wooded area with impressive buildings in the forest. It was an opera/ concert/stage play facility that mostly catered to the society page crowd. I believe it is still an active summer festival facility and probably still caters to the society crowd.
While I mentioned the North Shore RR was a Chicago-Milwaukee commuter rail line, it did have a branch route that served the western communities between Evanston and Waukegan or Kenosha. My father never minded getting assigned to this section of the railroad.
All in all, Highwood was a very pleasant place and time for me. There was much to do and many places I could go in the woodlands along the lake font to play games such as Davey Crockett . I think I was a little sad to leave.
MAPS:
Weldon's World
Weldon's Bigger World
CHAPTER 2
This is probably the easiest period to remember, or at least remember what I think I remember. It was a happy period. We moved to Chicago to live with my grandparents, which I eventually came to realize was an economic move to save the "family house." My grandfather was unemployed and had even swallowed his pride and applied for and received a HFC government loan, but it was not enough to save the Ashland Ave. house. So we (Graham's) moved from Highwood into the downstairs apartment. This was when I was in the 5th grade.
At that time, I was not really aware what the depression really was. While we were no better off than people I was aware of, we certainly were no worse off. Thinking back, when there was an eviction and suddenly somebody on the block had all their furniture and belongings out on the sidewalk with a lot of crying and carrying on, it wasn't something I associated with "There except for the grace of God go I." As I advanced into my teens and became aware of the social and economic world that was controlling the little world of Ashland and Lawrence, the economy was going upward and the worst of the depression was over. That was also the time when some of the things that had happened in the last few years began to make sense and I could recognize that while we never had a bare table there were times we ate rather plain and repetitious food for periods of time. I remember that when the refrigerator broke down and the ammonia refrigerant leaked out, an old "ice box" from the basement replaced it rather than having it fixed or simply getting a new one.
Another strange event that happened more or less frequently was my father's ( and the rest of the adults) concern over something called the change inspection. As a conductor on the North Shore RR, he was required to sell tickets on the train to those who did not get them at the station. The company supplied each conductor with an initial cash purse to make change. Each day they turned in the cash from the daily sales but were allowed to keep the purse. As this was company money, it was subject to inspection at any time. Shortages were considered very serious offenses including the threat of arrest for any "losses" in the company funds.
I think most inspections were regularly scheduled activities and there were enough leaks in the office about surprise inspections to have the news go like a prairie fire to all conductors. So from time to time there was panic over what to me was a couple bucks and didn't seem like a big deal. Later in life I became conscious that it was a big deal. Being fired was often the least penalty the conductors were subject to. Strict enforcement had to be demonstrated. Also I am now sure there were many times when it was a question of using some of this money or not having milk for the table or money to make a loan payment on the house. Because I was not being forced to upset my personal life too much or being forced to accept the responsibilities of surviving, it was possible for me to have a "happy" period during severe depression times.
Now to my recollections. I started in the fifth grade at Our Lady of Lourdes school which was a one block walk down Ashland Avenue from where we lived. Lourdes was a first to eighth grade school at this time— none of this kindergarten nonsense. Prior to the early 20s, it was a girl's high school. I know this because my mother was a graduate of the high school in 1917. My first teacher was Sister Margaret Mary who had also taught my Mother during her high school days. She was a little (height not weight) nun who I suppose could be considered "tough," but I do not recall ever having any problems with her. I was in a combination 5-6 grade with 2 rows of desks for the 6th grade and 4 or 5 for the 5th grade. I cannot recall what effect this dual classroom had since I remember that the next years were all single year classrooms. Ours was the only classroom on the 4th floor which was basically an auditorium for class plays and whatever else went on at Parents Night. It was not in good repair and after my 5th grade year the whole 4th floor was closed.
The class year pictures were hung along the walls of the hallways with the newest ones near the entrance. My mother's high school picture was up on the 3rd floor and was one of the large ones (maybe 16 X 20 size rather than the latter day ones of 8 X 10.) I used to play a game with my mother: Can she find where her picture is ? Shows how quick on the uptake I was, thinking she would have forgotten where her class picture was hung.
As I recall we paid tuition of $1.00 per month which I believe was a family rate and not a single child one. I also think the regular rate was $2.00, but I may be wrong on that. Anyway the payment record was kept in a column alongside the parent's signature line on the back of the report card that was issued monthly. It was never any big deal for other kids to see the front, grade side of the card but one never let the backside be exposed for nosy kids to see your actual tuition and if it was paid current.
What was living like from 5th grade to early teens? As I have, said my recollections are mostly happy ones. We were within walking distance of school. Sears Roebuck was a mile walk to the west and a mile east was Broadway Avenue which had a Goldblat's, Kreske's and Woolworth dime stores, and many shoe, dress, millinery, meat markets, etc. stores so it was our major shopping area. This was before shopping centers had been invented so it was simply a local small business center.
These usually did not have the national food stores like the A & P, National, or Piggly Wiggly which were generally in the local neighborhood. Our everyday food shops were one block west on Lawrence Ave where there were two major chains (A & P and National) within a half block and some other small specialty stores. Since the grocery chains did not have fresh meat, there was also a meat market in between.
On Lawrence between Ashland and Paulina, where the National was the corner store, there were 3 gas stations, a tavern, a barbershop, and a drug store. On Ashland going north in mid-block was a small Mom and Pop store for milk, bread, newspapers and emergency items of limited supply. These stores were also open to maybe 8 or 9 and on Sundays. At the end of the block, on the ground floor of a fairly large apartment building, there was a drug store, a dry cleaners, and oddball business that never seemed to stay more than 6 months to a year. The Uptown and Riviera theaters were located at Broadway and Lawrence. The Uptown was one of the largest movie houses in the country, seating I think around 4000. It was also on the stage show circuit and at one time or another all the big name bands, magicians, singers, and comedians appeared there.
The Uptown was the north side regional movie house of the Balaban and Katz chain and it only carried the new movies, often concurrently with the major downtown houses. The Riviera, also a B and K house, was a step down in the chain of movie houses with no live entertainment and second-timearound or B grade movies. It also had double features, where the Uptown would have first run movies and a live stage show.
My walking world was to Sears, to the movie houses and shopping stores in the Broadway area and 2 blocks south to Wilson Ave. which was on a bus line. At this time the bus line was operated by a different company than the streetcars and there were no transfer coupons between them. Three blocks west of Ashland was the end of the line for the Wilson Ave bus. The route was down Wilson to Lake Shore Drive which became Michigan Avenue. At Jackson the bus turned right for 2 blocks to State Street which was the official end of The Loop, the main street in downtown Chicago. It then turned down State St. traveling through The Loop where it again turned right to Michigan Avenue and retraced the route back to the barn.
In the summertime they ran double decker, open top and side busses. Around the time of the World's Fair in 1933 they started to add the new double decker enclosed diesel buses. They were very posh: air conditioning in the summer, decent heaters in the winter and bright fluorescent lighting so you could read when it was dark out. Kid fares were a nickel. The World's Fair site was within walking distance of Michigan Ave. where the 52 turned to go to State Street. At that corner the Chesterfield cigarette company had a working display of a cigarette machine that made cigarettes, then dropped them into a big hopper where they were put into the packs and then into the cartons. A block or two down Michigan was another neat store. This was the Lionel train demonstration store. Not only did they have all their trains in fancy running demonstrations but they even welcomed kids in.
Because of easy bus transportation I was allowed to go to the World's Fair alone and take bus rides downtown, a high adventure to an 11-12 year old. For some reason it was harder to get permission to take the Clark St. streetcar downtown even though it did not require a change of cars. From the age of 11 up for all practical purposes I had no limits on where my world ended. For 10 cents, a nickel each way, I could travel to the very ends of the earth, which downtown Chicago certainly was. Everything I could imagine of the world was in the bounds where I was free to travel.
The real center of my world was in the next block on the other side of Ashland Ave. at Chase Park, a small city park. The main building had a second floor "gym" over an auditorium. A wing on each side had toilets and locker rooms (with showers) on first floor and several small meeting rooms on second floor. A connecting office separated the boys' side from the girls' side. Because the side wings projected out some, there was a little court in front of the office and between the wings. This was a cement area that had a number of long benches for sitting. On each wing side of the building was a gravel play yard surrounded by a fence. On the boys' side were climbing bars and a set of swinging rings instead of standard swings, a merry go round, and a maypole with a half dozen chain ropes with laddertype hangers on the end. We would use these to go as fast as possible, letting one of the riders slip around the others' chains. Then everyone would jerk their chain backward and drop back off, so that the upward and outward movement of the chain accelerated the one that was wrapped up and it was not unusual to get a 45 to 60 degrees flying circle. It didn't happen often but when someone lost his grip on the handle he would go flying a fair distance and have a miserable landing on the gravel. The girls side had a small wading pool, swings, teeter-toters, and slides.
Back in the deep depression days, the government Works Project Administration (WPA ) had a lot of make-work projects and hiring extra people to work in the parks was among them. So there was a Park District gym teacher and a WPA gym teacher. There were a number of WPA people to help monitor the play yards. It was against the rules for boys to be in the girls' play area, so when we had nothing better to do, it was always fun to see how long we could be in the girls' area.
The building and side yards were the width of a football field. The main building was up to the sidewalk on the Ashland Ave. side, so it was really the back of the park. The front side, facing toward Clark Street, had a football field with a cinder running track around it; the football field just fit inside the running track. On the left side of the field there were 4 clay horseshoe courts and next to them 4 clay tennis courts. On the left hand front side(facing Ashland Ave.) was the "baby park". This was simply a grass area with some benches and several trees where mother's came with their baby carriages and sat and talked while letting the kids crawl around in the grass. Sometime in the 60-70's this was converted to a municipal swimming pool.
During the depression years, summertime life at Chase Park was a very active and lively one. Every day people would gather on the park benches near the boys' side wing and a big loud speaker was brought out onto a small balcony of the second floor meeting room. The baseball game would be broadcast and there usually were 100 or more people sitting around listening and commenting on the progress of the game. A blackboard would also be brought out to post the score. On heavyweight championship fight nights, they would also be broadcast and usually several hundreds would come. For fight nights, people usually stood rather than sat. Three softball leagues were operating, each in a separate corner of the football field. Chicago softball is the 16 inch pillow ball, not the smaller ball used in the rest of the country so there was little interference between the various games. These were well attended all season, with a normal evening attendance of several hundred. For some reason football leagues never seemed to cut it.
A popular single event of the summer was a track meet. Usually they were publicized and had at least one "name" star like Jessie Owens giving a demonstration or acting as a time keeper or starter for the events. They would always have Junior events for us young ones. We spent a good part of the summer practicing for the big race, especially during the years when the park had extra WPA help to keep things active. At least once a week there would be outdoor movies when it got dark. These short subjects were probably thinly disguised commercials but they were free. The WPA people had music lessons, dance and theater classes, plays, cooking lessons, and about anything that a group of people would be interested in.
My activity of preference was basketball. While the gym was a real gym and did have a basketball court, out of bounds on the side was the glazed brick walls, and at the far end the backboard was bolted to the wall. Directly under the hoop was a fire escape door. It was not uncommon to find yourself out in the fire escape balcony from time to time. The near side had a small spectator balcony with a glass backboard to let everyone see the action. Underneath this balcony was an 8 foot deep section at the court end line for coaches and extra players. Out of bounds on the other 3 sides were the side walls, shoulder and side abrasions were as common as those from falling.
The gym was closed on Sundays except on special occasions. Boys and girls alternated days during the rest of the week. The boys had Tuesdays, Thursdays, and Saturdays which was good as we had a full day on Saturdays rather than the 3 p.m. to 6 p.m. slot on school days. Evenings were for men, which when you are 12 or 13, meant 18-19 year olds. We always showed up anyway because they often needed someone to make up the team and as a last resort would let us play. We also tried to sneak in extra time by putting a little wedge in the balcony door so we could open it from the outside. Then one kid would jump down from the balcony and open our entrance door from the inside.
Less frequently, because there was a greater degree of difficulty, we could sneak in from the girls side and get entry to the gym on their days when that door was open. The game plan would be to have someone go up to the boy's side entry door, which meant getting past the open door of the men's coaches (both park and WPA) and keep watch through the glass window. If after a reasonable period of time no girls showed up for that day's programmed events the sentry tried to get in and then led the rest also running the gauntlet past the coaches door.
The other key ingredient was to have your own basketball as the park balls were locked up. If you made it into the gym, you were usually home free provided no shouting went on— a giveaway that it was boys in the gym. The coaches and park people had no reason to suspect just the ball bouncing noises. So it frequently was possible to get extra play time in the gym. Thinking back though it probably was courtesy of the park administration and coaches who closed their eyes to breaking the rules when the gym would not have been otherwise used. But we thought we were getting away with things. The problem with the scheduled classes was the instructors and coaches did not always want to play basketball. They also liked to start out with various calisthenics which led to much groaning and asking "When is basketball going to start?"
Several other events are clear in my mind. On Clark Street, just a bit down from the corner, was the Rainbow Gardens. In the 20s it was a Hi-Li court but that never caught on as sport that charged admissions. Over the years it was Boxing Arena, Restaurants, Night Club, Walkathon arena, and what have you. Wrestling was a fairly long term event. It was a regularly covered in the newspaper and I think was not quite as hokey as it is now. I remember one day being at the park when Strangler Lewis, World Champion in the newspaper article, was training for some big contest. For some reason I got in and spent the afternoon watching the training.
Another time the Harlem Globe Trotters were playing an exhibition at the Rainbow and they used Chase Park as a practice court for a day. Again some how by being like a mouse in a corner by the door, I was left alone and watched all afternoon. For some reason I wasn't in school that day and it was my good fortune to happen up to the gym. As I have indicated it was a dinky gym. It was truly unbelievable to watch these guys taking long shot practice from the opposite free throw circle with nonchalance. Even our big guys had to struggle to shoot from center circle.
The gym had a peaked roof which was mostly glass for illumination. Night events were like going through tunnels as the overhead lights were spotty at best. However this roof had angle iron rafters with lots of cross bracing. My mouth would really drop open when some of the Trotters started shooting through the ceiling bracing and making baskets. Quite a few years later I occasionally could make a basket going over one of the rafters. The group I hung around with were all the same age within a school grade and about the same size. We were at the bottom end of the hierarchy and I guess were the small guys. A lot of the big guys, with a full court running start, could jump to the ring and either touch it or occasionally "dunk" a ball. Our thrills were when we could consistently jump to make the strings move.
One exception to this was one of our group who was 6' 4" in 8th grade. He didn't go to Lourdes school but lived in the neighborhood, so did come to Chase Park. The hot high school to go to was St. George, a Catholic school close to the Chicago border in Evanston. The Christian Brothers ran it on a no-nonsense basis. Anyway Elmer was enticed to go there on a scholarship that included carfare, lunch, books, tuition, and probably pre answers to any examinations. The second day of school he went into see the principal, Brother Bull, (a name he did not object to being called to his face.) He laid his books on the desk and said the work was too hard.
For some reason Elmer liked our group and hung around with us quite a bit. I never thought of my Grandfather as anything but a serious droll sort of person. However for some reason he and Elmer got along fine and whenever Elmer was at the house they would tease and kid each other. After he quit St. George he went to Amundsen, the public school where I went for the first 1 1/2 years. Amundsen was not in the boundaries of our house but was in walking distance, whereas Senn HS (our local high school) was a street car ride away.
When you wanted to go outside your boundaries you would have to find an aunt or grandmother (to account for last name difference) who did live in the boundaries and get a gas or telephone bill that had an address on it for proof of where you lived, if questioned. Anyway Elmer went to Amundsen and played on the basketball and baseball teams. He also ate with us in the cafeteria but I don't recall him getting his food from the cafeteria line. He always seemed to get into the Cafeteria from the doorway that was closest to the gym. Although he lived only a couple blocks from me, he always took the streetcar both ways and occasionally would have an extra street car token for a friend.
Amundsen took up one corner of a twoblock city park and one time I remember sitting on the sideline of right field watching and yakking with Elmer who was playing right field. This was hard ball and Elmer aspired to be a pitcher in. This day for some reason he was in right, and a ground ball went through his legs. As he turned to chase it ( there were no fences on this field so it could go a long way) he yelled to me "Come on let's go. They'll kill me." So he, with me following as best I could, went right past the ball and kept going. I think in what would have been his high school senior year he grew a beard and went over to Michigan to pitch for the House of David semi-pro team. We lost touch but every now and then I would see his sister who was only 1 inch shorter than he. He stayed in semi-pro ball a couple years but he never could get past the St. George syndrome of not wanting to buckle down and work for something he desired. The last I recall hearing of him he was somewhere working as a hairdresser. I guess it fit as wine, women, and song were his specialties.
Another major activity at Chase Park was ice skating. In the winter they would flood the football field to become the ice rink. A small wood shack with a potbellied stove would be used as a skate changing room. In the years when there was WPA help, the guy who took care of the ice lived directly across from the park and really took good care of it. He would go out and fill in the deep scratches and every night would put down a fine spray of film to keep the ice in tip-top condition. So in ice skating time we had some additional things to do on Girl days in the gym. I think the park was open to 9 or 10 every night so there was always plenty to do when and if one could escape the house.
I was in a group of 5 to 8 guys, who from about 12 or 13 to 17 to 19 regularly, kept together as a group. We never played organized sports and I only can recall one who was on a school team. We probably were uppity to other singles or groups. If we wanted to play softball we would go and play with whoever was in the park at the time. We were always on good terms with the other kids in the park but only on a limited basis which I doubt had any formal rules of when or why. This togetherness extended well past the time others started dating. Girls were not a part of our social life though once again if some happened to be at the park they were welcome to join in any activity we happened to be involved in.
There were two popular outdoor activities at the park which we played with others. One was what we called "Buck Buck, how many fingers up." The total group was divided into 2 teams. One would have an anchor man butting into a small tree. His teammates lined up behind in a stooped position, as tight as possible, head over butts. The other team would run and leap on this line; the object was to have the first team collapse before the jumping team had a player fall off the line. You had to stay in the spot you landed on so it got to be a real holding on contest to keep from falling off. None of us could really jump very far up the line, and the pile got pretty high at the beginning of the jump end.
The other game was something we called "Pointers". Around the ground level of the building was a concrete baseboard type architectural adornment. It stuck out maybe 9 inches and was 15 inches high, It also had a generous concave top along its length. From up close this was a wonderful target for throwing a golf ball as the bounce back could be controlled to some degree by where on the curve and how hard one threw. There were some rules based on baseball. There was a field and a ball going outside it was a strike. If the field team could catch the ball on the fly it was an out. If the ball landed is specific areas without being caught it was an out.
We also played this game on a building that had a brick wall that abutted a concrete sidewalk. Here you had to aim the golf ball like a pool ball on a bank shot. We had much more control with the curved cornice. We could play this game in the gym also as the side walls were glazed brick. In the gym we had to use a tennis ball which couldn't go as far as a golf ball and was easier to catch. But someday you had to take what was available.
We did have a problem of sorts with these games and most other things we did in the park that involved any kind of noise or running around off the football field. The Park was under the jurisdiction of Parks and Recreation. For God knows what convoluted political games, they also had jurisdiction over the Boulevards. This meant they had an independent police force from the city police who had responsibility for all other streets, alleys and what ever. There was much jealousy between the two police departments and serious jurisdictional disagreements. The park had a full time P and R policeman assigned to it. This kind of was probably a punishment assignment or a "hold assignment until retirement" or "recovery from a medical problem."
Well the guy we had was Buck Williams. He was unique in both police departments because he was allowed to wear motorcycle uniform pants and not be a motorcycle cop. The story was he had severe leg injuries from some sort of riot that occurred on the Michigan Ave. bridge which is a boulevard that is why he, as a Park and Rec cop, was involved. During the riot, he was held by his feet over the side of the bridge before being rescued. My mother played cards with some other Park cops who said he often had severe pain and had to take large quantities of pain killing medicine, so there were times when he was very hard to get along with. Most times he was the friendly park cop but at other times, like hearing a bunch of wild kids yelling Buck Buck, he made our life miserable. Often during these periods he would call for a patrol car to come and help with the gang disturbances in the park. We found the only thing to do was to get the hell out of the park because nothing we did would please him.
One night I happened to be walking through the park, which often happened if we were going down Ashland Ave and wanted to take a short cut. When I was no more than 5 feet into the park, he grabbed me and pushed me into a patrol car. I could see a bunch of kids scampering off in all directions but none were my friends. The outcome was I was taken to the station and put in the tank. They called my Mother at home and she had to come and get me out. I didn't know who she was madder at: me for being in the wrong place or the cops for pulling me in.
Eventually we (my mother and I) had to go some sort of court where we hung around all morning. We got to a judge, Officer Buck Williams didn't show up, and the Judge dismissed the case. This made my mother even madder as she had a few things she had wanted to say.
So life went on in a relatively easy way. I started high school at Amundsen. In order to do this, I had to get a telephone bill or something to prove I lived in the school district. Our normal district was Senn but it required a streetcar ride to get there; Harold went to Senn. Anyway a lot of my friends went to St. George and that is where I wanted to go. Tuition was maybe $20.00 a month which was out of the question After a year and a half at Amundsen, I convinced my mother to go up to George's and at least talk to the Brothers. She did and they reduced the tuition to something like $4 or $5 so I got to go there; I went there for a year and a half. By this time finances were very tight and my parents were probably in process of divorcing about then so I went back to Amundsen.
At the end of the first half of my then senior year I dropped out of school to go to work full time at Hillman's cafeteria downtown. There was no pressure on me from home to do this but it was obvious that even if I did not contribute much, it was a big help not to be taking money out for cigarettes, clothes, a movie, etc. The next school year I went to Lake View Evening school, finished the last half year and got a high school diploma. It took a whole year to do the half years work, going 4 nights a week. Lake View was on Ashland Ave about 2 miles South. This was a walking situation and in the middle of winter got pretty dicey but other than that it was no trouble.
This was in '38 or '39 and the refugees were starting to pour out of Germany. It seemed that more than half the night school students were adult Jewish refugee (many probably into their 50s.) Anti Semitism was not unknown in Chicago. I do know that seeing this large group of Jews really making an effort to better themselves with work, while many of my critical friends spent their time playing ball or in the taverns. At the same time they were bitching about how all the good jobs were going to the Jewish refugees, and really did not make sense to me.
Hillman's cafeteria in downtown Chicago had business rush from about 11:30 to 1:30 and then from 5:30 to 7:30 or 8 when they closed. The normal work day was divided up into 2 sections— afternoon and evening. There was a 3 hour dead time, with no pay, between the shifts. A full weeks pay was $12.00 with 12 cents de ducted for social security, less any hours you didn't work if it was rainy or for whatever reason they didn't need all the help a particular day. The breaks us gave time to go to a movie and stage show if you had extra money, or wander around downtown Chicago taking in the sights.
The busboys and girls and kitchen help frequently went out as a group to a beer hall or tavern after work as a group. This was a fun time. Emilie Schranz was one of the bus girls and somehow or another we would be together at these after-hours get togethers and or spend time together wandering downtown Chicago during the long afternoon break. Eventually this blossomed into steady dating and eventually marriage. ( Janie this is as sexy as it gets.)
After I finished Lake View, again through one of my mother's card playing friends, I got a job at a company called Chicago-Latrobe Twist Drill on the near north side, a short walk from Clark Street, a very convenient street car line. This was a little before the war. It was a piece part work situation, but I was lucky enough to have a work station where I could make what I considered a fortune— even enough to consider getting married on. I worked there until I was drafted in February of 1943.
I had good fortune on my side a little, as Emilie's family was happy I was dating her as I was a nice tall Catholic boy. Catholic was the operative word. Time went on and our more or less chance meetings developed into steady dates and the eventual decision to marry. We got married on May 30, 1942. Think it was the hottest recorded day in Chicago's history. We were married in St. Michael Church essentially across the street from where Emilie and her family lived. Two biggest events besides the ceremony were Em's brother Marty who was an altarboy and had a whee of a time tossing holy water over his shoulder at us kneeling up on the altar, and my brother Harold passing out and falling to the floor. The other attendants, Ed Kilfoy and Bob Morgan picked him up with one at each end, carried him to the sacristy and as they passed the door let him go with another loud falling noise. In the mean time my mother was racing to the altar to render whatever assistance she could to Harold.
CHAPTER 3
We were married in May and the following February I was drafted into the Army. By this time Emilie was well on her way to being "heavy with child." I was quite fortunate in getting assigned to an Army Specialized Training Program (ASTP) unit. I think this was essentially the governments way of keeping the college and university doors open as the young men were drained into the armed forces. In any event, I got assigned to the Pennsylvania State College's basic ASTP program. In three 3-month "terms" we covered the first two years of a normal college education. While my grades qualified me to continue on into the advanced program leading to a BS degree, the end of the war was in sight and the ASTP was shut down, except for those already in advanced programs.
Lady luck really played a big part at this time. Army headquarters had asked Penn State Army administrators to arrange for 200 ASTP students to be interviewed for an unspecified program. The local people, with really no specific instructions, chose 100 each from advanced and basic. This is not what the brass wanted, as they were looking for advanced scientific students. Anyway Penn State is in the geographical center of Pennsylvania and at that time it was not easy to get to, or leave; there was only one bus a day in and out. Since the interview team had no place to go, they said they might as well interview the basic students rather than create potential rumors about why 100 alerted interviewee's had not been interviewed.
They were looking for scientific field people but as an adjunct were aware there was also a need for machine shop types. The Chicago-Latrobe job was a machinist type job and apparently the clincher was that I had my own tools of the trade. Of the 200 interviewed, they chose 15 advanced students and 3 basic, including me. The 3 basics all had pre- Army machine shop type work experience. Eventually it turned out that the interviewing group was from the Manhattan Engineering Project, the government developers of the atomic bomb. But this was secret so they could not tell the people setting up the interviews.
This selection took place about a month before the end of the term. As the term came to a close, it was announced we would have our usual one week leave between terms but on returning everyone would be assigned to the Airborne Engineers at Fort Belvoir. So I came back to Chicago for a weeks leave in April of 1944. As I left to take the train back to State College, PA the following Saturday, it was with the knowledge I would be heading for the Airborne Engineers.
I got back Sunday night. There were notices all over to be prepared to ship out starting Tuesday morning. Monday afternoon I was called to company headquarters and the First Sergeant told me not to go with everyone else as I would have different orders— that's all he knew. After the whole group had gone, it was apparent their were 18 of us waiting to go some where else. That Thursday they broke us up into a group of 4 and a group of 14. I was in the 4 group. An advanced student was put in charge and given sealed orders not to be opened until we were on the train the next day.
The other two basic guys were from the fraternity house where I had been quartered in. Everybody was quartered in frat houses. Some of the larger houses quartered over a hundred. but I was in Theta Chi, which was nice as it was the smallest house with only 28 students. I even had a private room. Anyway we four got on the train in Pittsburgh. The orders were opened with all due secrecy and we three were told only we were going to Chicago. A couple stops down the line at some train stop, a Western Union guy came racing through the train paging our secretive commander. He had new orders for us. They were too secret to even tell us lowly privates, except we no longer were going to Chicago. Well I thought, almost made it home to Chicago.
Finally when we could see the skyscrapers in the distance ahead, we made a stop at the 63 rd Street/Hyde Park station on the south side of Chicago. We were told this is where to get off. Some guy in a civilian suit met us, put us in a car, and drove to a nearby hotel. We went up to a room and were told this was a very secret project and if we did any talking about it we would be off to a very small Pacific Island where we could talk to our hearts content to other stupid people like us. He then asked where our homes were. My friends were from California, Michigan, and Indiana. When I said Chicago he said "Great, go home. The "el" is one block this way and 2 blocks that way, Report to Ryerson Hall at the University of Chicago at 8 AM Monday morning. Oh, and report in civilian clothes." I started a "...but-but..." and he gave me a card with a telephone number saying if I had any problems with the military or regular police to have them call this number. I was free to go whenever I wanted. The other guys had to stay in the hotel until they could get their civilian clothes shipped to them.
So here it is late afternoon of the following Saturday from when I left to go off to the real war and I now walk back into our apartment in uniform with all my worldly Army property. "What am you doing here?" "Can't tell you, it's secret. Also don't be surprised if I leave for work Monday in civilian clothes." "What the hell are we going to tell people?" "Haven't the faintest idea. Maybe we should just mumble a lot." Early the following week as Em was taking the baby carriage out of the building, one of the tenants said "I thought the baby's father was in the service." About this time the FBI started an investigation for a security clearance and they were around the neighborhood asking questions as to my good character.
So it went. We started going to a different church so we would not run into people asking how I got out of the Army while their sons were being shot at, etc. But the story gets a little bit more interesting. After about 3 months the Army decided rather than pay us a civilian clothing allowance that we should go back into uniform. So now as suddenly as I went from uniform to civilian clothes, I went from civilian to uniform with a promotion to boot. This time it was more mumbling and avoiding embarrassing questions as best we could. I guess after a while when no buildings were blown up as I was passing by, or any big manhunt for spies was being conducted at the local level, things calmed down and my friend's mothers would leave their long hat pins in their hats, rather than getting them ready to defend themselves from that guy the FBI was asking about.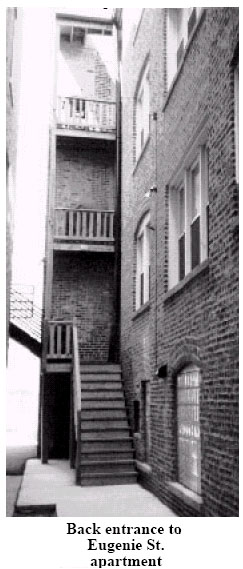 When I first left for the Army, Em's sister Rosie came to live with her. This was great as Em had company and help during her pregnancy. It also helped financially and was a big help when Karen was born. Somewhere along the line Em's sister Annie, who worked in a bakery on North Avenue, came across a vacant apartment in a nice building near the Schranz's. We had a Murphy bed in the original apartment, but this one had a bedroom plus a Murphy bed in the living room. This was great as we could have a separate bedroom that was big enough for Karen's crib to fit in, and we would have a bed that was on the floor all the time. This worked well until a couple years later when Tina arrived. We then converted the bedroom into a kid's room and we moved to the Murphy.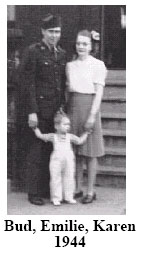 It was a nice apartment and we were young enough so that being on the second floor was no problem. There was enough room inside the locked door of the street entrance to keep the baby buggy and later Karen's tricycle at street level. We were just a block off North Avenue which had all the shopping stores we needed and were less than a block from streetcar stops and an elevated station. It was maybe 2-3 miles from downtown with easy public transportation. So all in all it was a good move. Plus we were just around the corner from Em's family. Another big plus was we were only a 10 minute walk from Lincoln Park. This was a great place for limited income people with the free zoo, nice picnic and play areas and a live pony place where Em's father enjoyed taking Karen for a Sunday morning pony ride.
I was still in the Army working at the University of Chicago. After awhile friends and neighbors gave up wondering, to our faces anyway, why I wore an Army uniform but went to some kind of a mystery job somewhere.
One event took place probably in early 1945. The First Sergeant called me and said to get my things together and be down at Union Station where someone would meet me with new orders and a ticket to Oak Ridge. This was about 9 AM. As I was returning some company tools I had checked out, Tom O'Donnel, Shop Superintendent, saw me and asked what I was doing. I told him I was checking out, saying that Sgt. Bidlack had called to say I was transferred to Oak Ridge. Tom was an excitable older man who needed a cane to walk. He had been at the University for eons. He had been the personal machinist for Dr. Michelson, a world famous physicist studying the speed of light. Tom had built most of the equipment used to measure the speed of light. At one point Robert Hutchins ,the boy wonder President of the University (he was named President at 28 years old) wanted to confer an honorary Doctorate on Tom, so he could raise his pay to Doctorate level. Tom told him to go to hell, if he was worth it with an honorary degree he was worth it without.
In the 20s and 30s, the shop employees had great, interesting jobs, but very little pay. They did have lots of fringe benefits though, like tickets to the White Sox ball games, no one checking how much they worked, and permission to use University equipment for personal work etc. Tom was the type not many people on the academic side tangled with. He had ways of speaking plain speak when he wanted to, and he believed being right was more important than having a Doctorate. This was apparently a breath of fresh air philosophy in Academia which Hutchins supported.
"Put that stuff down and come with me" he told me and went storming off toward his office. As he came through the door he shouted to his secretary "Get me Groves." I had no idea who Groves was. Groves wasn't available so he had to settle for Col. Nichols instead. That name was sort of familiar as all our Army stuff was signed by a Col.Nichols. Anyway, when he started talking he went nonstop for at least 5 minutes. Then there was some back and forth conversation before he hung up. The gist was that he had been promised "they" would not interfere with his people without his express consent, and reassigning one of his people was sure as hell interfering and By God he was not going to stand for it. Besides, they were taking someone who was deep into working on "code name" and he no longer could guarantee his promised delivery time if damn fool administrators kept pulling his key people away. "Well let's see what happens," he said after he hung up. He also said I better go do what the sergeant told me, as it really was a military matter and I shouldn't get into trouble over it.
I had called Em to tell her to get my uniform from the dry cleaner and that I'd be home in an hour or so to pack. As I opened the door to the apartment, she came running, crying out "A Sergeant Bidlack just called to say your orders have been canceled and you should continue reporting where I had been."
Next day I went to see Tom to thank him for keeping me at Chicago. His comment was something to the effect of if you give those guys and inch they will take it all from you., and by the way I better go work for "X" down in the basement on the micro balance for about 2 weeks in case any of those Army jokers came checking to see what I was doing. I later found out that Groves was the General Leslie Groves who ran the Manhattan Project and Nichols was his deputy.
So it came to pass that I stayed at Chicago. Eventually the war ended and I was up for discharge. By this time I was a Technical Sergeant which was a handsome pay grade. When the shop heard I was getting discharged they asked me to stay and work for them as a civilian, doing the same thing. They offered me $1.65/ hour which was a good wage at the time. However when I hired in, after I came back from Camp Grant where I was discharged, they made my salary $1.85/hour. ( I had told Em to stick with me and I'd make her rich.)
All I really knew of the work was it was very secret stuff and it was better to not ask questions. We did make some rather precise mating half balls that shop talk felt had something to do with some kind of experimentally shaped charge explosives. Much later it turned out these sent to Los Alamos for developing the charge placement for imploding the atomic bomb; at least that's what I think.
With the dropping of the Atomic Bomb and the release of the news about the Manhattan Engineering Project and the vital role the University of Chicago had played, we were allowed to admit we were part of this group. (Not what we did, just that this is where we worked.) This made our life better with the neighbors and friends' mothers were much friendlier now that I had an explanation of what I was doing.
After the war ended the government set up a series of National Laboratories under the direction of the Atomic Energy Commission. What was the Manhattan Project at Chicago became the Argonne National Laboratory. Argonne was the name of a wooded section west of Chicago where an experimental test reactor had been set up. As an aside, Chicago had dropped out of the Big 10 conference as it had felt intercollegiate sports was detracting from academic goals of the University. So the first reactor had been assembled in the old squash courts at the football field. It was not a good location for a reactor, in the midst of a crowded civilian population, hence the removal to an isolated site. The University was contracted to manage the independent Argonne National Lab. As far as I know they still manage the facility for the Department of Energy, the predecessor of the AEC.
So I was automatically transferred to the Argonne group and things continued on as before. Eventually everything moved to Argonne's new facilities about 20 miles south-west of Chicago. It was a longer distance, about an hours drive, but most of the time I was in a car pool which essentially paid for the gas and oil cost. Later on I was in a pool of 4 drivers so it was only once a month driving.
Of the three of us, that came from the same fraternity house at Penn State, for some reason the one from Michigan was discharged before his civilian clothes got to Chicago. Ted Garner, from California, eventually got his civilian clothes and found an apartment on the South side near work. Later he married a hometown girl in Chicago. His father owned some sort of factory that made war production products so he did not have trouble arranging transportation which was normally tough at that time. We stood up as best man and maid of honor at the wedding. We also became good friends. Later on when we went to California on a job interview, we spent a week visiting as their house guests. Anyway Ted did not work in the machine shop end of things, but on a special project, building an extremely sensitive measuring weight balance called a "Quartz Micro-beam balance. It was a very state of the art device capable of weighing extremely small amounts. After the opening up of the existence of the Manhattan Engineering District, I often thought it must have had something to do with Plutonium research. At the time I do recall knowing it had very high priority and Tom O'Donnel had a personal hand in directing the work.
One of the balance component parts was a small quartz rod, maybe .004 in. diameter, with a short .0004 in. quartz diameter rod flame cross welded to the larger rod. This was done using medical microscopes with very special holding and positioning fixtures and special torches Tom had invented. To make such small rods was also an unusual procedure. There was about a 3 foot diameter wheel, about 6 inches wide, with double sided scotch tape spaced every 3 inches. This wheel was driven be variable speed controller that could be precisely adjusted. There was another motor, also driven with a variable speed control, that could move the whole thing side ways. The last component was a set up that essentially was a bow and arrow and attached to the arrow was a piece of quarts rod that was heated by a torch. With the wheel turning, a part of the quartz would be heated sufficiently to become fluid and drop onto the spinning wheel where it would be captured. At this point the operator would release the bow and shoot the arrow, which in turn would pull the quartz to finer and finer diameters until the quartz cooled sufficiently and it broke the drawn rod.
Now the fun began. One wall was covered in black velvet and flood lights were directed across the face of it. Then the operator would pick off sections of the quartz from the wheel and hold them in the light in front of the velvet wall so he could see the thread length. He would attach the short, straight lengths to a violin bow with tape at each end. The diameter was measured with a high power microscope. Sometime the first try would produce enough of the correct diameter, but it was not uncommon for a number of tries to be necessary. When correct lengths were found they were scotched to a velvet-faced piece of cardboard for later use. It was comical to see people walking in the room holding up a closed pair of tweezers and very carefully moving around.
Anyway this was Ted's domain and he apparently became quite good at it. After the war he returned to California where he made a few micro balances and sold enough to start a business. He hit it at a fortunate time, as the modern day electronics industry was just starting. While there was a limited market for quartz beam balances, there was an ever increasing demand for very small quartz insulators of precision dimensions. Back in those days, aspirin did not come in bottles, but rather in little flat tins that held 12 aspirin, maybe 3/4 in.by 1 in. by 1/4 in. in size. Many of Ted's orders for several thousand parts fit into an aspirin tin. He had an ongoing battle with the post office trying to insure a shipment for several thousand dollars. They kept telling him it was impossible, that if the whole package was solid gold it would not be worth that much. Sorry to have digressed so much.
What I started out to explain was how fortunate I was to find myself in a situation where I was the only uniformed Army person in the Shop. I was only required to work a 40 hour week. However the Shop was on a 10 hour day with a half day Saturday. Living on the North side made a long commute on public transportation. Fortunately a bachelor foreman lived at the YMCA just a block from our Eugenie Street apartment. He had a Packard Coupe and was more than happy to have me as a "free" rider so that he was able to get additional gas coupons.
The Eugenie St. apartment was a good place for the time and family size we had. Most things were convenient like movies, meetings in the local taverns, church, street cars and the elevated whenever it was necessary to go beyond walking distance for large department stores or entertainment. It was only a short walk to Em's folks' house where we had Sunday afternoon lunch (more like dinner) almost every week.
Charlie had taken a shine to Em and the kids. (After I became a shop foreman I wasn't quite the block head I originally was.) Anyway he was a frequent dinner guest and a much more social person than I remembered as a kid living in the apartment below his on Ashland Ave. He liked to do things for Em like making her a "left hand" can opener and modifying a pair of scissors so it could start cutting about an inch inside the fabric when cutting a buttonhole. He also let Em trim his hair; in fact he left a hand operated barber clipper in one of our drawers.
This reminds me of another sad day in my life. At this time I still liked to make model airplanes and had a small breadboard that I used to pin the balsa wood stringers together when gluing them. One of these pins got really stuck and I could not pull it out with my fingers. While looking for pliers, I came across the barber clipper. The tines fit around the pin well but on removing the pin I either squeezed the handle or didn't pull up straight and one of the tine fingers broke. I figured he wouldn't notice and he didn't until the first time Em used it. I very quickly reverted back to my long held block head position.
By this time my mother had not lived at Ashland Ave. for a number of years. So when she and Charlie met at social occasions for birthdays, communions etc. they could have pleasant discussions and be normal to each other. Her friendliness to us would come to a very big halt when Charlie died in 1950. He left the Ashland Ave. house to us and only $1.00 to her to make it legal and incontestable. It wasn't until we were living in California that she gave in to a Christmas card and telephone call, and eventually she made several vacation visits. So everything finally worked out between us.
In 1950 we moved to Ashland Ave. This phase of our life was quite different. The house was dilapidated as Charlie had not been able to keep up the property and it had been broken into and ransacked at least one time. He essentially was a recluse; Tarzan, the dog, probably ate better than he. When we came down to pick him up for some event, there absolutely was no way we got past the front door. He put away very little of the stuff strewn on the floor. The attic, his apartment on the second floor, and basement were filled with little aisleways for walking from point A to point B. We spent several weeks just throwing stuff into the back yard; a junk man came with a skip loader to take it away. We probably tossed out many valuable things but we did not take time to evaluate the items being pitched out the back windows. We were pressed for time as winter was getting closer.
The hot air furnace was unusable for need of repairs so we contacted a heating contractor and settled on a hot water radiator system fired by an oil fired furnace. When the contractor saw the condition of the basement with only a two foot aisle to get from back to front he said "No thanks. My people could not work under those conditions. We pleaded and promised we would have the basement emptied by the day he could start; I think we made it about 4 hours before his workers showed up. They did a great job, especially getting all the piping hidden inside the walls. Slowly but surely, with the help of Em's brother Joey and some of his friends and my brother Harold and some of his friends, we were able to move in before Thanksgiving.
All the Schranz's were invited for Thanksgiving dinner. The week before the big event, the first major catastrophe knocked at the door when the water pipe from the street broke. The plumber, who lived at the other end of the block, came and diagnosed the problem. He started to test how far into the street the break might be. It turned out to be too far for a normal repair unless the street was closed to prevent a cave-in from trucks passing overhead. This would require special city permits and something like a $1000.00 cash bond. The bond would be refundable if all went well, but there was no way in hell we could get that much money.
So we went inside and sat at the kitchen table discussing the problem. I got out a bottle of whiskey and several hours later, with an almost empty bottle, he said he would give it a try up to about 12 feet from the curb, if we would double park our car to look like it was just stopping for a quick delivery. The next day he was there early in the morning and started to dig and tunnel out. He got the break at about the 10 foot distance and was able to repair it.
His bill was something like $100 or $125. I wrote a check and had $11 and change left in the bank. We did have the dinner and fortunately, nothing else happened before the paycheck came at the first of December. For a long time that's how things went. When there wasn't enough money to buy wallboard or some other item, we worked on things we had on hand.. There were plenty of these things to do for the next 3 or 4 years.
We joined a church program, the Christian Family Movement, where a small group of couples met regularly in each other's homes to learn about the Catholic religion. A priest attended these meetings and was the discussion leader. After the meeting, the hosts would have some refreshments and we had a little social hour. Our group hit it off very well. Eventually, especially when the priest had trained us enough so he wasn't necessary at all the meetings, the social end took over and we became a social club. I think it even continued after we moved to
When we decided to move to California, we needed to sell the house. As it turned out we had become friends with Don Sagle, who worked in the real estate office that had handled our previous move to Eugene Street. He agreed to handle the paperwork for the house sale. As luck would have it, one of my Chase Park buddies, who had become a policeman and whom we occasionally saw socially, was looking for a house. So it worked out that he bought the house and everybody was happy. Another childhood friend, Ed Kilfoy, was working at a Ford agency selling cars and got us a new '56 station wagon at a good price. It was great, as we had space to pack a lot of stuff to drive to San Diego and still be relatively comfortable with 4 kids. So on Mike's first birthday, the car was packed and we pulled into Ashland Avenue, heading west for whatever the future would bring.
CHAPTER 4
As all things must, there has to be a "from here to eternity" time. For Emilie, Karen, Tina, and me, Chicago was the only place we had ever lived. In fact, we had hardly ever traveled away from there. But in the early '50s the fate of the Atomic Energy Commission was of political concern for a number of reasons. A part of the concern the was question of what to do with the national laboratories and what and how much research and development they should conduct.
Jim Katora and I, two new foremen, were called into by the Shop Superintend who in a very nice way explained to us that if a serious cut was made in Argonne's funding, we would likely be surplus employees. He wished to tell us that if we sought other employment that he would do all he could to help us. He made it quite clear that he was not trying to force us out, but wanted to help us if the future turned out as he anticipated it might. No time table was set. Jim and I discussed it some and felt it could not hurt to look around. We both did but nothing turned up that was worthwhile and as things turned out, Congress decided to continue with the AEC. However it was a possibility that political considerations could arise in the future, so in the back of my head I kept the idea that it wouldn't hurt to keep my ears open.
Eventually I became the Foreman of the Special Materials Shop which was located in a separate building from the Main Shop. Because it handled radioactive material, it was in an isolated area with restricted access. In 1955, a guy with a Ph.D in metallurgy who was. employed at Atomic International in Los Angles came to Argonne for a year to do some special research on zirconium hydride, a metal to be used as cladding of fuel rods. The Special Materials shop worked closely with him on developing fabricating techniques. When his year was up, he returned to AI in Los Angles. In the spring of 1956, I received an invitation from Atomic International to visit them (at their expense) to explore an employment opportunity. I called Ted Garner, a good Army friend from my ASTP days at Penn State who lived in Los Angeles to get some idea of the area and AI.
He urged me to come out and said if AI was not interested then he might be, as his business was expanding and he was looking for a foreman to run his shop. He suggested Emilie should also come and we could make it a short vacation staying with them. Em thought it was a great idea, even though in the past she was very vocal about never getting on an airplane. Concurrently, I had mentioned to a Jim Schumar, the head of the Metallurgical Department located in the same building as the shop (and for whom 90% of our work was done,) that I had been asked to come out for an interview. He said if I got down to San Diego, to look up Ed Creutz who had just moved there to a new job. I knew Ed in passing, as I had done some work for him while at the Met Lab during the war. So it came to be that Em and I went to LA. We spent a week with Garners as a vacation. I had my interview with AI, and on a sightseeing trip to San Diego with the Garners, stopped to say hello to Ed Creutz.
About a month later I got a formal invitation of a job offer from AI. I had not been too impressed with AI, and the offer was not financially better than what I had at Argonne. However, within a day or so after the AI offer, I received a letter from Ed Creutz offering me a position to start the machine shop at General Atomic, a brand new division of General Dynamic's. This offer was for significantly more than what I had at Argonne, and there was no hesitation to immediately write back accepting his offer.
So the Graham's life in Chicago became a closed book and on August 9, 1956, the day before Mike's first birthday, we packed up a brand new Ford station wagon, pulled away from 4822 N. Ashland Avenue and headed west. The trip was mainly fun trip, but Emilie felt there should have been more pit stops. We looked for and found motels with swimming pools and did some sightseeing. Cars did not have air conditioning then and when we got Las Vegas it was in the 100s so we decided to spend the day in an air conditioned motel and cross the desert to LA during the night. It helped, but not a whole lot. We also stopped overnight at the Garners in Los Angeles. The next day was the final travel day and we found a motel on El Cajon Boulevard, just past San Diego State College. We called a school friend of Emilie and found that they lived a very short distance from our motel, so we went to visit them.
The next day we got up early and headed to Disneyland to fulfill a promise made to the kids. The following day Em called another Chicago friend who also lived close to our motel. We visited them and they offered to keep the kids while the husband took Em and me on a house hunting tour of some places he knew about. We wound up in the South Clairemont area and then stopped at a real estate office down by Morena and Milton. The real estate agent took us back to Milton and our first stop was at what is now the Walkers house, then to what became the Howards, and lastly to what is our house on August Court. It was occupied by a naval aviator who had only been in it for 2 weeks when he was suddenly transferred to northern California. We liked the house, and with a 1 and 2 year old, its location at the end of a small cul-desac was fantastic so we told the agent "This is what we want." The next day the deal was finalized. After we bought it, essentially by assuming his GI mortgage which was something like 3.5 percent for 20 years, we were the ones who made the very first mortgage payment.
The agent arranged for us to live at a motel in Ocean Beach close to General Atomic and a block from the beach. While at the motel we had sort of a vacation, since my work was only about a 2 minute drive and we were just across the street from a drive-in movie. In fact we walked to the movie a few times. We spent 10 days or so at the motel, waiting for our furniture to arrive from Chicago and the previous owners to vacate. Mostly when I returned from work, I would either meet at the sand beach or we would go down to it before dinner. It was a very short walk. We visited the Stutz's a few times. They had a swimming pool so Karen and Tina never objected going there. We also got acquainted with the Zoo and Balboa Park.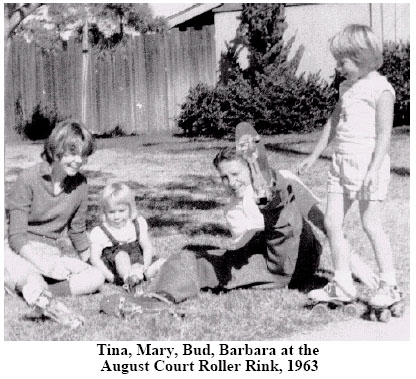 General Atomic was only a 7-10 minute drive from August Court, which was fantastic compared to the 60-65 minutes each way from Ashland Ave. to Argonne. The Court neighborhood was very friendly. The tract had only been opened for about a month, so everyone was a new. On the court there were several houses which had not yet been sold or the new owners still had not moved in. There were no fences; the developers were responsible for installing the back fences and the tenants the side ones. Before any one could move in there had to be grass in the front lawn. Most of us had grass which had not had it's first cutting before the moving trucks pulled into driveways. The stick holding up the tree in our front yard was bigger than the newly installed tree.
All of the families had small children so it was easy meeting the neighbors. All of us were roughly the same age and in comparable white collar jobs. As the first Christmas approached, one of the families invited everyone in the court, plus 5 or 6 houses on Milton St., for an evening get-together. Before the first party was over, some else offered to have everyone to their house the next night. That continued every night until everyone had a Christmas party at their house. One of my happy memories is that I was the only one who made them all.
This type get-together is probably what started the Memorial Day Court Picnic tradition. Since the little kids could run around safely in the court, and it was convenient for everyone to bring their barbecues, picnic tables and benches or beach chairs out into the street for a community party. Both the Christmas and Memorial Day parties lasted for about 36 years. Unfortunately, as time went by and the original owners were replaced with new ones, it became harder to get volunteers to take on the tasks of organizing these get togethers. Toward the end it seemed like Emilie was supposed to do all the work with no or few volunteers.
About the 36th year we went to Seattle over the Memorial Day holiday to be with Mary when she had Sami. No one picked up the ball to get a court picnic going. The next year no came forward to make preparations so we said the hell with it and it died. As younger families with smaller children move into the neighborhood, maybe the court picnics will have a rebirth. The McCarty house is now owned by on of their daughters and she has very fond memories of the fun of the court picnics ; with 3 young kids maybe she will bring it back to life.
An update of the court in 1998 might be in order here. Our next door neighbor, Mina Farmer, still lives in her original owner house. Roy died a number of years ago and all her kids are gone. She is not in good health and the big house and yard are really too much for her. She has had people live with her for a time, but Mina is Mina, and they don't survive long. Not counting the one month the first owner occupied our house, we are the next oldest "original" family here. The Howards still own the house on the corner, but it has been rented out for decades. A number of owners have come and gone and for the most part they have been good neighbors.
The only real pains were the Donahues, who were from a different world. In the beginning, everyone had close visiting relationships with each other. Now the relationships are more a smile and wave going in and out of the court or short pleasantries when coming together on walks or meeting at the store. Everyone is pleasant and friendly, but the kaffee clutches are a thing of the past.
What about life in San Diego? For the most part it has been a good place to live. It is only when one slips into a retrospective gear does the change over the 41 years become startling. For the most part the areas we normally travel have had gradual change so it has not been dramatic. In 1956 the population was in the 275-300,000 range; today it is in the 1.2 million area. However, the majority of the population is in areas we seldom have occasion to visit. The most startling, of course, has been the downtown section, but here again it has been a creeping change.
The most recent dramatic change is the complete tear down of the Convair plant on Hiway 101. It has been very noticeable as we travel past that area regularly. The changes at the airport will probably be startling too, due to the long time it has been under reconstruction with all kinds of road rerouting, scaffolding around, and interior upheavals. As this project comes to a close in the next months, the changed airport will be as strange to us as the "new" airport was from the one we first experiences with its outdoor boarding gates and baggage retrievable area on the 101 side. Although the Mission Bay area has seen many changes and added recreation areas, it still looks pretty much like it did when we first moved here and viewed it as we drove down Milton street to get to Morena. The parts of Morena we travel frequently are pretty much like when we first came to San Diego. I-5 replaced old 101, but in the same position, so except for greater capacity it is not much different.
While there have been great changes in the Morena and Clairemont Drive roads, they have also been slowly evolving, so it seems like a time-lapse view. Since I seldon travel up I-5, it is mind-boggling to see the change with each trip. Travel up the I-15 has been more frequent this past year or so and the changes have become less obvious to me. What is apparent though is the fantastic increase in automobile and truck traffic as the land becomes saturated with these massive housing developments.
I guess it is reasonable to accept that in these almost 42 years since the brave little band of mother, father and 4 kids pulled away from the curb in a new blue and white station wagon and followed the setting sun until there was no more land, that changes were inevitable. Who could have predicted that a car full would wind up as 2 parents, 6 children, 6 son- and daughter- in-laws and 14 grandchildren (two of whom are doctoral candidates) and two granddaughters-in-law. The frightening part is that two of the grandkids are close to the age we were when we headed west.
Our great blessing has been the progeny that are following us. Our hope it that they are as successful as we have been. Our tragedy has been having two daughters proceed us to whatever lies ahead in the great unknown. Barbara and Tina both died of breast cancer; Barbara in 1998 and Tina in 1999. As Emilie often says, "It is not right for children to go before we do." Be that as it may, Barbara and Tina have not really left as we are still surrounded by their beings.
One of our grandsons has his doctorate in philosophy and his brother is close to becoming a medical doctor. The next batch of grandchildren are finishing high school and will be heading off in new directions.
Karen and Mary live in Seattle, Barbara's family in Murrietta, about 60 miles north of San Diego. Tina's family lives about 10 miles north and Mike's family lives 10 miles east. Janie's family live within a mile of us. All of our kids are good friends and have helped each other through many difficult situations. When we get together the noise level gets high with the laughter and bantering of close and compatible friends.
CHAPTER 5
This chapter wraps up "Weldon's Story". It is meant to reflect on the differences from when I was a boy growing up in the 30's and 40's with 1999, the finale of the 20th Century.
Grocery stores and meat markets. The end of the century food stores are as different from the 30's to the end of the 20th century as the 10th Century was from the 20th. ( The 10th century style of grocery store probably was quite similar to the early 20th.) As a kid until the late 30's the format of grocery buying was essentially the same, all across the country. Meat markets sold meat, the vast majority being cut to the order of the buyer at the counter showcase which displayed the commonly bought meats or sausages, and the chicken which as likely as not came from a cage outside the front door. The butcher's display cases had front sloped glass walls and glass top. On the butcher's side, the cases had sliding glass doors so the inside was enclosed to keep the meat as cold as possible. Usually the bottom shelf (waist high) was covered with a thick layer of crushed ice, that the products lay on. Behind this was the display case, which in small meat markets was "L" shaped, and in larger markets was "U" shaped, where the meat that did not require ice was kept.
On the back side of the customer side was the butchers work area with scales every so often along the top of the case. ( the scales were up high and visible to the customer to at least give the illusion that the butcher was not weighing his thumb along with the meat. It was often an illusion.) The big butcher blocks (about 4 foot square) were interesting pieces of equipment. The blocks originally were about 24- 30 inches thick with 4 very substantial round legs. These block were made of hard wood to withstand the pounding and chopping. The wood was made of 2 x 4s standing upright and staggered like brick walls. They were held together by metal rods with the nuts and washers on the outside. My guess though is the metal rods were show time and the actual construction was assembly working from the inner pieces to outer held together by glued together wood dowel pins. The heavy chopping caused the top of the blocks to slowly chip away in the chopping areas into concave areas. In addition, every night the butcher had to vigorously scrape the top with a metal scrapper to "clean" the top to prevent meat fragments from creating bacteria infestations. This scraping process tended to smooth out and elongate the chopping pockets out to sort of small wave shapes. Every so often the butcher would have to have the top resurfaced to a flat top. There were traveling specialists for this type work like piano tuners, ice, and bag coal men doing home delivery, and the roving knife sharpeners that would travel the alleys calling out his wares. Most blocks had an interesting array of butcher knives on at least one side. Long hack saws were hung from the ceiling at strategic locations from the ceiling. In the larger stores there might be a meat band saw in the front part of the store, rather than in the back, where the entrance to the walk in cold room(s) were. These often were ice block cooled rooms. Probably in the early 30s the new or bigger markets started to use refrigeration. Probably by the end of the 40s most markets had converted to refrigeration.
The meat markets carried other items like chickens, usually in small pens, where they would sell them live or chop the head off and pluck the feathers for the squeamish. Rabbit was a common item hanging from ceiling supported hooks with their back legs tied together to fit on the hooks. They were mostly skinned. At Thanksgiving the meat market would normally have live turkeys in pens out on the sidewalk. Customer would point to which walking turkey they wanted and tell the butcher she would take it as, or tell him how far she expected the butcher to go and whether she wanted the cut off parts to go with her. All in all meat markets were interesting places. As most orders had to be hand fabricated to the customer order it normally was not a walk in and pick up and order. So they also served as neighborhood "coffee klatch" spots were the women could keep in touch with the news, sometimes of who is coming out the back door very early or very late when the Mr. was on a business trip or away for whatever the reason. During the war meat was rationed. You had to have a voucher to buy meat. The market kitty corner from us on Eugene Street, worked out a system for his regular customers. He would pack a weeks supply of meat products that could be picked up on I think Fridays. The meat was already wrapped with customer name and cost. the wrapping had a price written on it and you found out what was inside when you got home. If you had a special event, birthday, wedding, son coming home or whatever, when you picked up your weekly package you would mention what the coming week event would be. Most of the time you got a special order to take care of your event.
Shortly before the war (W.W.II) supermarket type stores were beginning to take hold. They were a whole new way to buy food. There were open cold "chests" for cellophane wrapped packs of deli meats, cheeses, hot dogs etc. that one selected himself. They also had a much larger selection of items arranged on easy to reach shelves. But the big sort of startling new feature was you had a rolling basket and traveled around the store choosing what you wanted and then going to a check out counter. Previously one would enter the store, usually from a corner entrance, and go directly to a counter inside the store and wait for a clerk to become free. You would tell him or her what you wanted and he or she would go get it and bring it back to the counter. When all your items were completed they would total the bill and put your goods in strong paper bags. The supermarkets were easy to locate at night as they had very bright fluorescent lights along the ceiling. They started out with deli type prepared meats and cheeses in open refrigerated cases. After the war in the late 40s and early 50s these stores began to increase in size and incorporated bakery and fresh meat sections. These created major union problems. So even though the stores normally were open to 9 PM or later, the meat counter had to close at 6 PM and the counters displaying meat covered with tarpaulins. They also could not open on Saturdays and Sundays. When we moved to San Diego in 1956 one of the surprises was the meat market sections were open with live butchers whenever the stores were open, including all night and Saturday and Sunday if those were the store hours.
---
Return to Memorial Page